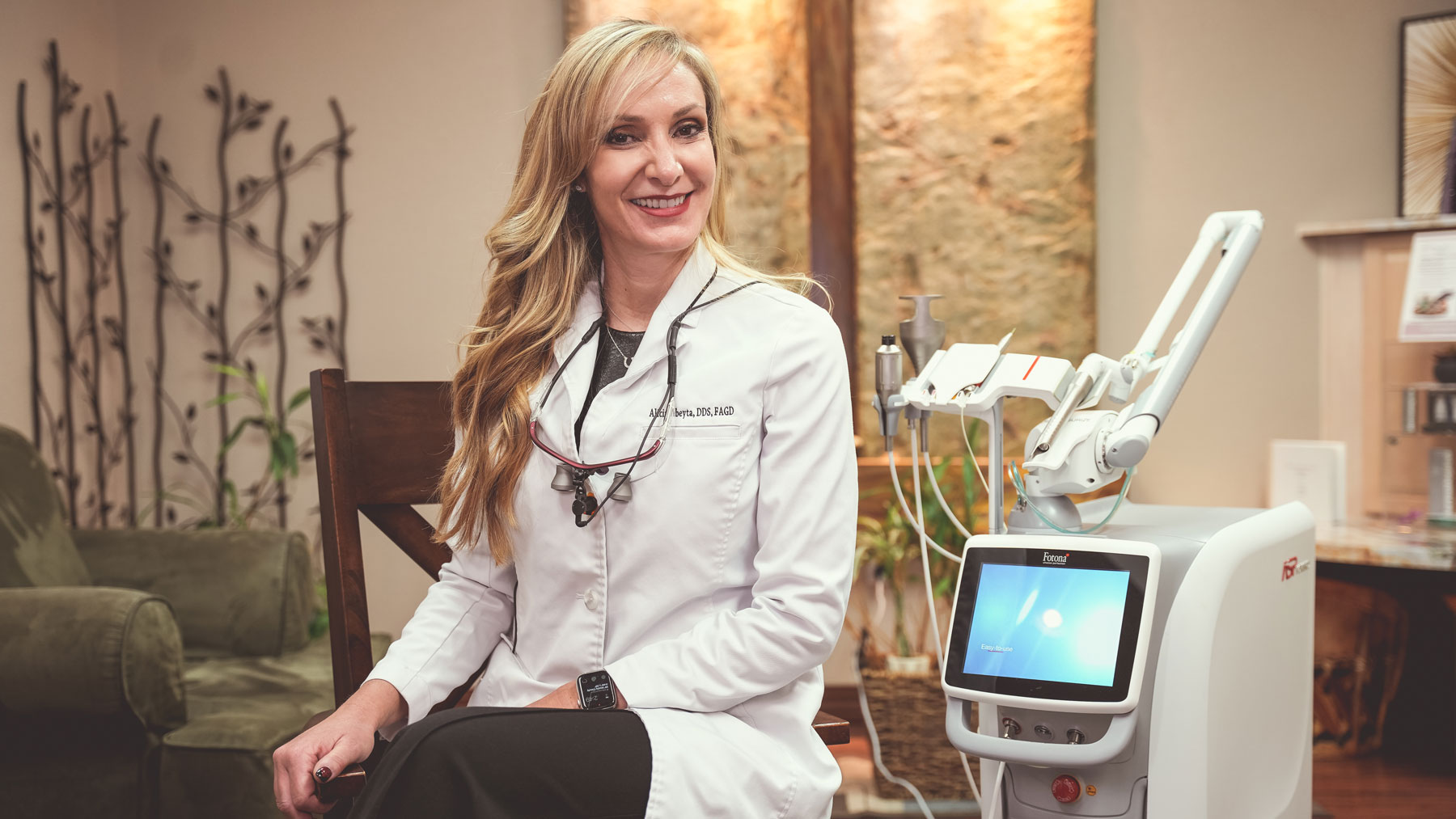 Considered one of Albuquerque's gentlest dentists, Dr. Alicia Abeyta DDS FAGD, believes that dentistry is a healing profession.
Along with changing a person's smile and building self-confidence, Dr. Abeyta focuses on making her patients feel safe and comfortable in a setting that typically is not associated with peace and relaxation. With a different approach to dentistry, she offers state-of-the-art procedures while ensuring long-term oral health. Dr. Abeyta and her team are very conscientious about diagnosing and educating their patients on the best dental practices.
Dr. Abeyta and her team value your time. You are seen at your appointed time and Dr. Abeyta's full attention is devoted to you while you are being treated. She believes that this intimate setting allows for a trust-centered relationship.
Dr. Alicia Abeyta earned her Bachelor of Science in Biology and Minor in Chemistry from the University of New Mexico followed by a Doctorate of Dental Surgery from the University of Colorado Health Science Center in 2005. Dr. Abeyta worked in the National Health Service Corps serving the underserved in rural areas before shifting into private practice in 2008. Dr. Abeyta practices Advanced Comprehensive General Dentistry with a focus on the link between oral health and overall whole-body health. Her passion for greater dental knowledge generates approximately 100 hours a year of advanced dental training in areas related to studying the impact of tethered-oral tissues (such as tongue-tie), TMJ dysfunction, and oral myofascial dysfunction on maxillofacial development, upper airway resistance syndrome, and obstructive sleep apnea. She recently completed a mini Residency program in Orthotropics: the study and treatment of facial growth guidance in children. Dr. Abeyta has been the recipient of the New Mexico Business Weekly 40 Under 40 Award, Best General Dentist as voted by her peers in The Albuquerque the Magazine, and has been recognized by ABQ Magazine as a top dentist every year since 2008. She currently holds memberships in the Academy of General Dentistry, American Dental Association, NM Dental Association, Albuquerque District Dental Society, Airway Health Foundation, American Academy of Facial Esthetics, Holistic Dental Association, American Academy of Gnathologic Orthopedics, Academy of Biomimetic Dentistry, and is a Faculty Member of Spear Education.

Dr. Abeyta enjoys the healthy balance of practicing Dentistry and spending time with her family. She enjoys being active and connecting with nature. If you don't see her at the office, you may run into her on the hiking trails in the Sandia's with her two little girls in tow. Being present and mindful are aspects of her life that she strives to model to both her patients and her children.
"Featured in Albuquerque The Magazine's September 2022 issue where she was voted by her peers as the top General Dentist in New Mexico"
Dr. Abeyta has been included in Albuquerque The Magazine's list of Best General Dentists as voted by her peers in 2008, 2010, 2011, 2012, 2013, 2014, 2015, 2016, 2017, 2018, 2019, 2020, 2021 & 2022.
Featured in Albuquerque The Magazine's September 2019 issue where she was voted by her peers as the top TMJ Disorder Dentist!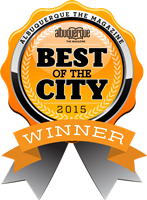 Alicia A. Abeyta DDS FAGD – Professional Affiliations:
Fellow of the Academy of General Dentistry
Member of the American Dental Association
Member of the NM Dental Association
Member of the Albuquerque District Dental Society
Member of the American Academy of Facial Esthetics
Member of the Holistic Dental Association
Member of Albuquerque High Desert Study Colloquium
Past President, a current member of Sandia Au JRVT Gold Study Club
Faculty Member of Spear Study Club
Member of Airway Health Foundation (airwayhealthfoundation.org)
Member of American Academy of Gnathologic Orthopedics
Completed Orthotropics Mini Residency program with Dr. Bill Hang
Vice President of Vista Nueva Association
Member of the Academy of Biomimetic Dentistry
Member of the American Academy of Physiological Medicine and Dentistry (2019 – present)
Recipient of the New Mexico Business Weekly 40 Under 40 Award 2012