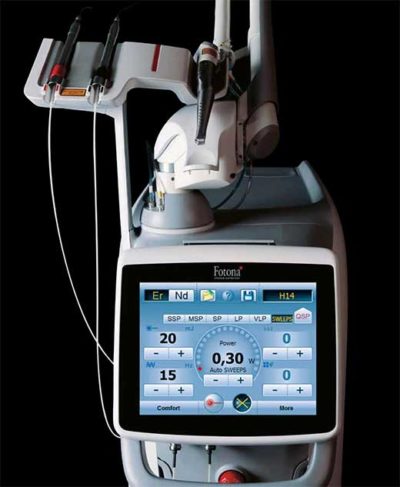 Lasers were originally used in medicine and surgery. However, the recent use of lasers in dentistry has opened the door to new treatment options for:
Cavities
Gum disease
Sensitive teeth
Teeth whitening
Gummy smiles
Periodontal disease
Fotona is a dental laser company that has been making lasers for decades. They offer several different lasers and laser systems and also provide training and support for those products.
Their three main products are the Fotona Lightwalker AT, the Lightwalker AT L, and the Lightwalker AT T. These lasers all operate at different wavelengths, but they're all intended to treat the same applications such as soft tissue procedures and more invasive periodontal treatments.
At Alicia Abeyta, DDS, FAGD, we offer laser dentistry. It has lots of benefits, such as:
Shorter Healing Times
Laser dentistry requires less recovery time than traditional methods; some patients require no recovery time at all. With laser dentistry, there is little to no bleeding, which means patients don't hurt as much or feel as uncomfortable while healing.
Less Pain
Laser dentistry isn't just for cosmetic procedures. In fact, laser dentistry can help patients experience less pain, thanks to laser technology. Many patients experience less sensitivity during a procedure, which often requires less anesthetic, if any at all. Laser dentistry also promotes faster healing, which means less downtime for procedures.
Less Bleeding
Laser dentistry helps reduce bleeding compared to traditional dental surgeries. Laser dentistry uses highly focused light beams that are tiny but very strong in order to cut through soft tissues in the mouth. These beams are also able to cauterize (seal off) blood vessels at the same time.
Less Swelling
After a laser procedure, patients will experience less swelling than they would after traditional procedures. The laser can remove tissue with minimal damage to the surrounding tissue. This means that the body responds less to the procedure, which leads to less swelling.
Lower Risk of Infection
Laser dentistry reduces your risk of infection because there's no direct contact between the instruments and your gum tissue. As the laser kills bacteria, it also seals the gums and underlying bone. Therefore, there is a lower risk of infection and bleeding.
Less Need for Anesthesia
Laser dentistry is more comfortable than traditional treatments. Since anesthetic needles aren't necessary, your treatment will be virtually pain-free. Since anesthesia can interfere with your body's ability to heal, you'll experience less inflammation and bleeding after laser dentistry as well.
Shorter Recovery Time
When treating issues like cavities, laser dentistry can help promote a fast and less painful recovery. Traditional treatment often requires scraping away the decay. This can be uncomfortable and may prolong healing time. However, laser dentistry can remove the decay without affecting the surrounding healthy tissue.
Fewer Dental Visits
Laser dentistry minimizes the need for dental visits.
The procedure is less invasive, so healing is faster, and laser dentistry treatment is less painful. You'll be able to resume your normal activities more quickly, and you won't need to take time out of your day to visit the dentist's office.
Less Dental Drilling
Laser dentistry minimizes the need for drilling. The laser can reshape gums without harming the teeth. Lasers also reduce the need for anesthesia or sutures.
More Precise Results
Laser dentistry uses light energy to reshape and contour the tissue in your mouth without damaging healthy tissue. Because dental lasers rely on light energy, they won't cause the same discomfort as traditional dental tools.
Learn more about laser dentistry by requesting an appointment with our Dentist in Albuquerque, NM. Call our office at (505) 293-7611 or book your appointment online today.