A double chin occurs when the layer of fat beneath your chin becomes larger than your jaw. Kybella is an injectable treatment that is designed to melt away fat. It uses deoxycholic acid, which is a naturally occurring chemical in the body. This acid breaks down and absorbs fat, leaving behind a trimmer, more contoured appearance.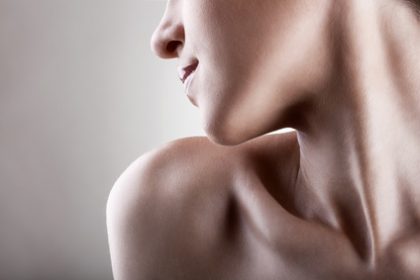 What Areas Can Kybella Treat?
Some of our patients have been thrilled with the results of Kybella on their double chin. Others have found that it's helped them to achieve a slimmer jawline, neck, and jowls.
Kybella works by destroying fat cells. When these fat cells leave the body, the result is a more contoured chin and neckline that doesn't look as puffy.
What Happens During A Kybella Treatment?
During your appointment, our dentist will first administer a topical numbing cream to your skin. Then, they will mark the areas of fat and tissue that will be treated. Once that is complete, the device will be turned on, and treatment will begin. The device is designed to administer the medicine slowly, so each treatment session should only take about 30 minutes.
What Are The Benefits of Kybella?
Kybella is a non-surgical alternative to liposuction for fat reduction. It is the only injectable that can eliminate submental fat. Minimally invasive and non-surgical, Kybella is a non-surgical treatment that permanently removes submental fat under the chin. Once the fat cells are destroyed, they are gone for good.
How Soon Will I See The Results?
You may notice a change in your chin profile in as early as six weeks. However, the most dramatic results will be visible after two or three treatments. Every patient is different, but you can expect to wait about three to four months to see full results.
How Long Will The Results Last?
When injected into the area under your chin, Kybella can permanently affect fat cells. Once those cells are destroyed, they can no longer store or accumulate fat.
Since your body cannot regenerate fat cells, the results of Kybella should last indefinitely. However, you can still gain weight and experience the influence of gravity. Therefore, the fat cells from the area of your neck under your chin can return, and you should maintain a healthy lifestyle.
Who Is A Good Candidate For Kybella?
Kybella can be used to treat weakened or enlarged submental fat, also known as a double chin. Submental fat can be caused by aging, genetics, or weight gain and can make people self-conscious about their appearance. Kybella is approved by the FDA to treat submental fat under the chin.
If you have extra fat under your chin, then Kybella could be right for you. Kybella is injected directly into the fat under your chin. Your fat cells are destroyed with Kybella treatment, releasing the fat so that it can be naturally removed from the body over time. Most patients require between two to four treatments spaced one month apart. Kybella is non-invasive, with no downtime, and results are permanent.
To learn more about the med spa services offered by Dr. Alicia Abeyta, call (505)-293-7611 or schedule an online consultation. You can also visit dentist in Albuquerque NM at 4830 Juan Tabo Blvd. NE, Ste. K, Albuquerque, NM, 87111.